Lingtie (Xiamen ) Machinery Co. Ltd
Lingtie (Xiamen) Machinery Co. Ltd. is a Company specializes in the research, production, sales, and services of Automatic Roll to Roll Screen Printing Machine, Rewinding Machine, Label Rewinding Machine, Roll to Sheet Cutting Machine and ancillary equipment since 2003. We have already made friends from all over the world. The total sales amount of the machine can reach 20 million every year.
The Development of Lingtie (Xiamen ) Machinery Co. Ltd
2003 Lingtie was founded to focus on the production of high precision automatic screen printing machine and ancillary equipment. In this year, the LTA-350 Automatic Screen Printing Machine with 30 meters inner pass dryer was developed for the market.
2004 LTA-460 Automatic Screen Printing Machine was developed. Its maximum printing area was the biggest size among similar machines in China. It was used to print heat transfers on PET film with a minimum thickness of 0.025 mm.
2006 We were the first company in China to develop 60 meters inner pass, 4-side heating, and constant temperature dryer. We first use Eco-friendly heat insulation form in the dryer to ensure constant temperature inside the dryer.
2007 200℃ high-temperature dryer with 80 meters inner pass was custom made for Taiwan customer. In this year, we developed a reverse feeding automatic printing machine, exhibited in printing fairs and gained many positive comments from the market.
2008 LTA-50120 Automatic Screen Printing Machine with the maximum printing area of 500 x 600 mm was developed for air conditioner panel IMD industry.
2009 LTA-5570 Automatic Screen Printing Machine was developed with a breakthrough in maximum printing width. Sensor register system and vacuum pitch feeding new technology were adopted in the machine. In this year, we established the international sales department for exporting and got the ISO 9001 Certificate.
2010 Customers from different countries visited us and received orders from Singapore, Indonesia, Thailand, South Korea, Vietnam etc…We expanded overseas market shares because of our good technique and quality.
2011 Automatic deviation correction and varying speed winding technology were introduced for the dryer to ensure that the substrate will be dried evenly.
2012 Moved to our new plant in Tong'an Industrial Concentration Area with more than 3000 sqm. Advanced equipment was added to ensure the precision of machine parts.
2013-2014 LTA-7060/60160/150100 Automatic Screen Printing Machine was developed, max. printing width 1500 mm, max.printing area 1000 x 1500 mm,register accuracy 0.01 mm.
2015-2017 Our machine got CE certificated and exported to Europe, USA, Middle East, and many Southeast Asia countries. More investment in CNC machining center and precision equipment for machine parts processing. Product range expanded to letterpress machine.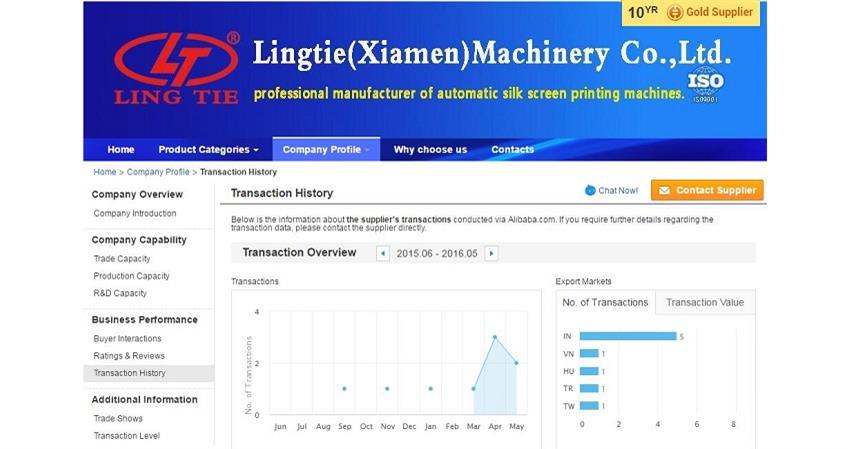 2018 We performance our roll to roll screen printing machine in THE 7th ALL IN PRINT CHINA Exhibition in Shanghai, the CSGIA Exhibition in Guangzhou.